International Journal of English Literature and Culture
Vol. 2(6), pp. 73-86, June, 2014
ISSN: 2360-7831
DOI: 10.14662/IJELC2014.024
Review
Psychological Interpretation of the novel The Stranger by Camus
R.Gnanasekaran
Department of Linguistics, Puducherry Institute of Linguistics and Culture, Lawspet, Puducherry, 605008, India.
E-mail: gnanasekaranpdy@gmail.com
Accepted 6 June 2014
Of all the critical approaches to literature, the psychological has been one of the most controversial and for many readers the least appreciated. Yet, for all the difficulties involved in its application to interpretive analysis, the psychological approach can be fascinating and rewarding. This psychological interpretation is an excellent tool for reading between the lines.
The proposed work titled "Psychological Interpretation of Camus's The Stranger" aims to explore the consciousness of the author and his work. It was published in July 1942 and a few month later Le Mythe de sissyphe [The Myth of Sissyphus] an essay that raises the problem of how to live in a world without clear meaning. His early works are based on the assumption that there are no absolute moral values that life is a matter of living from day to day, trying to find happiness. Albert Camus through this novel The Stranger brings out various concepts like existentialism, nothingness, death of god etc. what the dissertation aims to do is to provide an in-depth understanding of Absurdism, Existentialism, Freudian concept of unconscious mind and some psychological problem based on the novel with the help of psychological interpretation and psychoanalytic criticism.

KEY WORDS: Absurd, Existentialism, Unconscious, Psychology.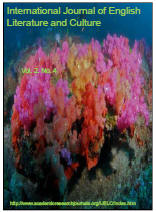 Vol. 2 No. 6

Viewing options:

• Reprint (PDF) (192k)

Search Pubmed for articles by:


Other links:
PubMed Citation
Related articles in PubMed